What's inside
upcrate wind of color
Breathe in and go! With this blow pen you simulate working with airbrush paint without the risk of inhaling toxic fumes. The use of this pen is in fact harmless to health in accordance with the European guidelines on toy safety. Experiment with your distance to the paper as you blow! The closer you are to your surface, the smaller the area you are spraying.
Lascaux Studio Acryl
What a catch! Lascaux has been producing premium acrylic paints since 1963, which are even used for the restoration and preservation of cultural assets. They are lightfast, non-aging and non-yellowing. The brand wants to enable an unique type of painterly expression – the colors are not only highly pigmented and creamy, they can also be combined with a wide variety of painting mediums and are even suitable for airbrush- and screen-printing techniques.
SMLT paper
In contrast to that, the SMLT Art sketch pad authentic grey has been made for dry drawing techniques, but it is also the perfect material to cut out stencils! The grey tone of this paper allows a different approach to drawing and painting as you're starting from a mid-tone to add highlights and shadows – and it lets the shape of your stencil stand out against the white paper underneath. This acid free paper consists of 15% cotton fibres and 20% recycled fibres to add roughness, volume and strength.
The painting papers of the platinum line are a perfect choice for the beginning of your painting journey. The 250gm cellulose paper is quite thick and has been specifically created to soak up liquids and paint. Achieve luminous results by using watercolour, gouache or acrylic paints.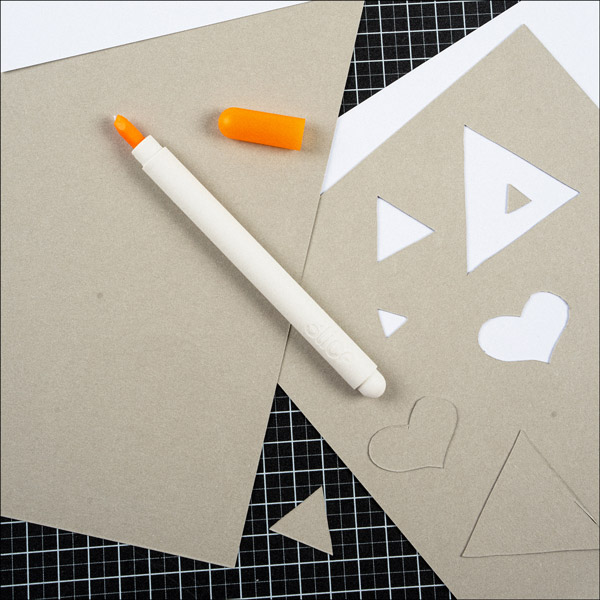 slice precision cutter
Aye, every sailor needs a worthy sword! The Slice cutters are not only safe and precise, their their rust-proof micro-ceramic blades blades can even withstand the stormiest of seas. The blade stays sharp up to 11.2 times longer than ordinary steel knives, meaning that you have to replace it less often. The blades do not transmit electricity, generate no sparks when cutting, and are non-magnetic.
In addition, the edge of the knife is specially sharpened to prevent cuts if accidentally touched. All of these attributes make Slice precision cutters safer and more user-friendly than other products. This is why these ceramic knives are particularly popular with creative people and artists – have fun cutting with this powerful tool!
upcrate stencil brush
The fine-pored foam tip with a diameter of 2cm of this brush is ideal for dabbing and stamping water-soluble colors on fabric and textiles. Rinse it off thoroughly after use so that you can use it for stenciling and stamping more often!
this month bottle post
Co-Captain
Featured artist
Anna Reichstein
I love the combination of analog and digital art. I like to paint or draw something that I would later on modify with photoshop 
#upcratebattle
Topic: