MENU
click at the topic to slide directly to them >>>
1. Cyanotype
Cyanotype is a traditional photographic printing process developed in the mid-18th century and is distinctive for its rich blue color. How it works: When cyanotype-soaked paper is exposed to sunlight, a chemical reaction occurs. However, it won't show up until you put the paper in water. Then it immediately turns blue!
So how do you make a print?
Instructions:
1. simply fill each bottle (Type A and Type B) with water, shake and allow to infuse for 24 hours to dissolve the powders.
2. Mix equal parts of SOLUTION A and SOLUTION B under dim lighting to create the cyanotype sensitizer. Mix only the amount you need immediately, as the sensitizer is only stable for 2-4 hours.
3. Coat paper with the sensitizer and allow to air dry in the dark (e.g., closet). Paper can be double coated for denser prints. 
4. Expose in sunlight (1-30 minutes, depending on conditions) or under a UV light source, placing objects or a film negative on the coated surface to create an image. (Note: overexposure is almost always preferred to underexposure.) The fabric will look bronze once fully exposed.
5. Process prints in a tray or bucket of cold water. Wash for at least 5 minutes and change the water regularly until the water is clear. Do not use soap. When wetted, the print will change from a bronze to a blue color. To process prints immediately for the final deep blue color, submerge washed prints in a dilute hydrogen peroxide solution, then rinse.
6. Air dry prints on a clean clothesline or on newspaper or blotting paper. If peroxide was not used in step 6, the prints will oxidize more slowly to their final deep blue color over the course of about 24 hours.
If you are looking for more challenges with cyanotype, you can also try it with photos:
Place objects on the paper to block the light: Anywhere the sunlight can't reach will stay white and leave a photographic impression on the paper (this is called a "photogram"). To print photos, simply print the photo on a transparency and place it on the paper instead of an object. You can even make prints from drawings by first drawing on transparency film – the possibilities are endless! Exposure time depends on external conditions, but is usually 3-10 minutes.
Make photographic prints by first creating a film negative. To easily turn any image into a film negative to make photographic cyanotype prints, visit Jacquard's online negative generator at www.JacquardCyanotype.com
2. Kolibri Brush no. 4415
This paint brush is made of a fully synthetic boron mixture, with tinplate frame and red plastic handle. With a thickness of 9 mm, the brush can hold a lot of paint. It is suitable for all types of paints, from thin-bodied glazes to very pasty acrylic and oil paints. The synthetic bristle is very robust, so that the brush wears little even on rough painting surfaces.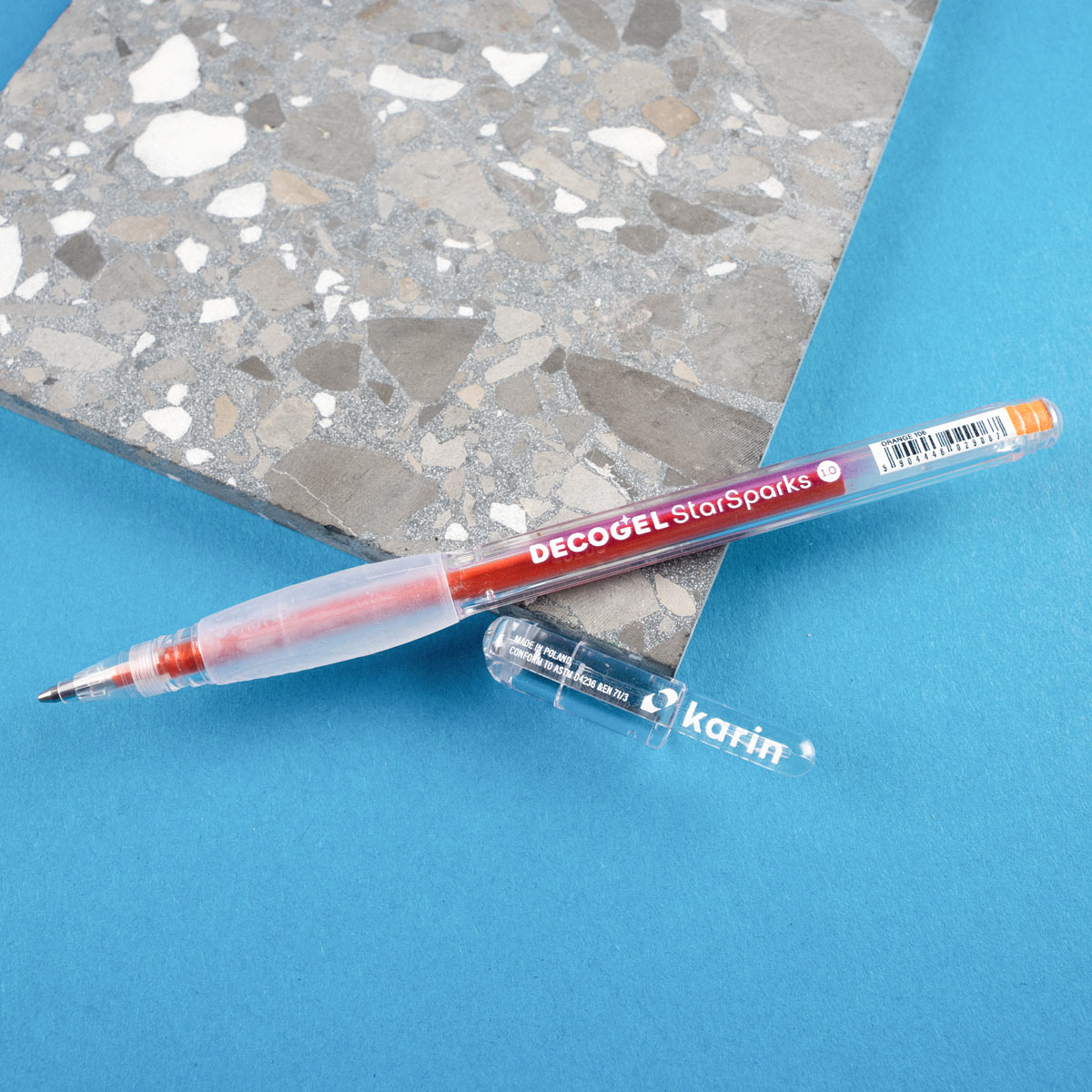 3. KARIN Deco Gel Starsparks orange 106
DECO GEL 1.0 is a collection of 50 gel pens for decoration, drawing and calligraphy, divided into color series: MILKY WAY, METALLIC and STAR SPARKS. They work perfectly on light and dark paper surfaces as well as on papers covered with watercolor paints, water-based markers (such as Brushmarker PRO markers) and many other surfaces such as glass, foil, metal or stone covered with acrylic paints and markers containing acrylic paints (such as Pigment Decobrush markers). This variety of surfaces provides unlimited creative possibilities.
DECO GEL 1.0 gel pens are precise tools for creating works full of subtle details and light nuances, such as calligraphy, bullet-journaling, scrapbooking, zentangle or mandalas. They are characterized by high covering power (MILKY WAY and METALLIC series), rich colors (METALLIC series), and special light effects (STAR SPARKS series). The covering, pigment-rich, dense water-based inks in DECO GEL 1.0 pens provide a smooth line, do not bleed through to the other side, are water-resistant (on paper) and lightfast.
4. Etafelt Hi-Text OHP, S green
The 780 OHP SuperFine Tip Green Permanent Marker is the ideal solution for anyone looking for a quality product. The fine 0.3mm tip ensures precise writing, while the green ink is bright and vibrant. The marker is perfect for writing on transparent films, but can also be used on other surfaces such as paper, cardboard, wood, glass, metal, plastic, CD and DVD. The marker also has a cap with clip. The 780 OHP Permanent Marker is Made in Italy. Etafelt, the leading Italian company in the production of markers and pens.
In the 1950s, the founder of Etafelt designed the first Italian marker. This innovative product soon became a success, and in 1966 the Etafelt company was founded to produce it on a large scale.
Today, Etafelt is a leading company in the production of markers and pens in Italy. The company has 7 factories, 90 employees and a turnover of approximately 12 million euros. All Etafelt products are made in Italy and undergo rigorous quality controls. The company constantly invests in research and development, to offer customers innovative and high quality products. Etafelt products are distributed in Italy and abroad. The company is focused on quality, innovation and environmental sustainability. The San Mauro Torinese and Settimo Torinese plants are powered by solar energy and a part of the plastic used comes from primary production recovery.
5. Paper clips, 4pcs
Use these great binder clips to hold the plastic wrap in place.
5. Artspaze Water color paper Pad, 300gsm
The Artspaze watercolor pad is ideal for all watercolor and mixed media applications! The 300g/m2 thick paper does not buckle if you work with multiple layers or wet on wet techniques. The cold-pressed paper has a rough and a smooth side, which offer the best surface for your art depending on your preference. 
This box is full of flowers. What is your favourite one?
I love all flowers but some flowers work better with cyanotype. Umbel shapes from parsley, dills, carrots, alliums look really effective and majestic. Papery thin flowers such as poppies, cosmos, bougainvilleas, lunarias, are so interesting as you can see their veins in the prints. Small and cute flowers like gypsophilas, elderberries, ornamental blossoms are good for fillings. And thick chunky leaves like eucalyptus are very effective layered. At the moment, my favourite is the acacia/wattle buds; so delicate but unmissable. They add a whimsical touch to a print.
Where do you find ideas for your art process?
It could be the shape of a paper, the texture of a fabric or the plants I have at that moment. They usually tell me how to proceed. Or it could be a combination of shapes I see in everyday life. Once you start cyanotyping, like drawing or any other artform, you can't help but notice everything around you in a different way. Everything seems to scream at you "look at me, use me".
How often do you make art and what does it mean to you?
I do this on a daily basis unless I have to be away from home. When I first started, I was in the process of losing a job I loved doing, so teaching myself cyanotype literally saved me from going downhill. Even now, when I'm creating, I forget everything else. I'm in a happy bubble where I can play and no one tells me I play badly. For me, doing this art makes me feel contented. It effortlessly causes me to notice the nature around me, to feel grateful and to be amazed at the way they adorn themselves. I guess art is my life now.
What was the most exciting part of your work with the box and what was the biggest challenge?
I'm most excited to share the cyanotype process with people who have never done it before, and I hope many people will see how easy it is to start! The biggest challenge is not to share everything all at once because of cyanotype's endless possibilities. I want people to know that this is just the beginning. You can do so much more!
What is your artistic process like?
I usually brew an idea for a long time, then comes the composition. This takes a long time too, especially when I use small flowers and foliages. Once the composition is done, the rest of the process flows pretty quickly. Lots of times, however, typical to cyanotype, the result is not what you expect. If it's a pleasant surprise, I let it be. If it's not as good, I tinker with it by either adding embellishments, or bleaching and toning it, or cutting it to turn it into different projects etc.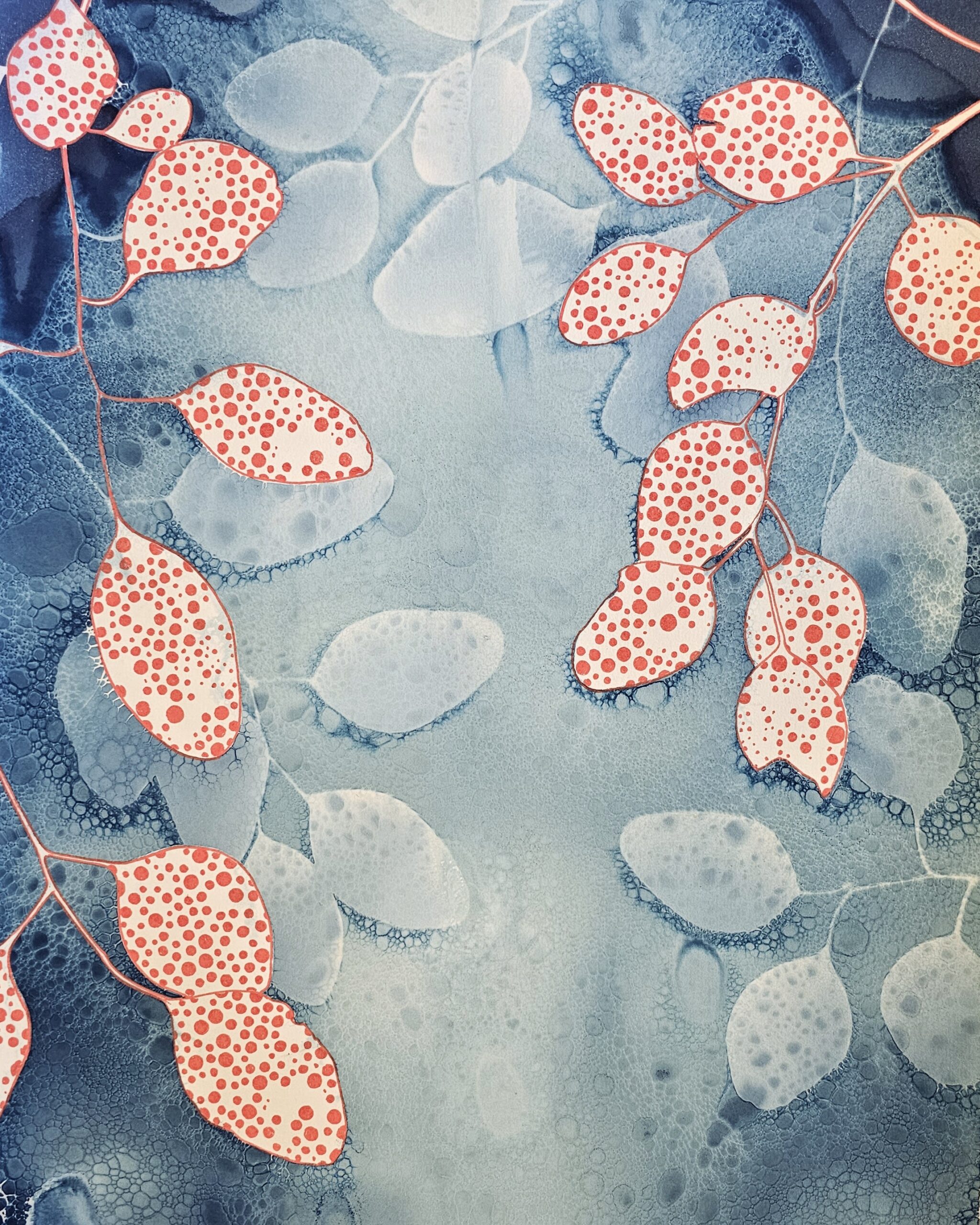 What are your plans for the future?
I have no big ambitious plans whatsoever. I will keep creating and improving my technique. I will keep teaching it to those who are curious. I guess, in the past, every artist dreamed of a solo exhibition. These days, my instagram @lindasukamta itself is an exhibition, not to say I wouldn't mind having a real one.
Tell us, what a day in your life looks like, if you're not making art.
My day is pretty normal: I get up late but sleep late too. I walk around the neighbourhood for exercise. I tend a little plot at the community garden, growing veggies and flowers I use in my art (and eat them too). I play classical guitar (my other life), I sew badly but I hand-stich really well (another Zen activity). I'm a classic introvert, I'm happy existing by myself. A day is never long enough because my head is spinning with ideas that have to wait.
Happy creating.
LINDA ABOUT CYANOTYPE:
So what is cyanotype really and what can I do with it?
The word cyanotype comes from ancient Greek, meaning dark blue impression. If you've heard the term 'blueprint', well that's what they used cyanotype for in the old days, a bit like photocopying or taking photos without a camera. Yes, cyanotype is an alternative photographic printing process, but much simpler by using iron salts and exposing it under the sun or uv light.
Cyanotype was invented in 1842 by John Herschel, an English astronomer and made popular by the first woman photographer, Anna Atkins who published catalogues of plants using cyanotype method. Today, many people use cyanotype to print artwork on paper, fabric and glass.
How does it work?
Whatever you lay on top of a cyanotype-coated surface, blocks the uv light, thus remains white. It's like creating white silhouettes against a dark blue background. The solutions are light sensitive so as soon as the sun or any light source emitting uv light hits them, they turn into dark green and finally brownish bronze colour. The magic happens when you wash the print in cold water. All the brown turns to blue! This exciting reveal makes creating cyanotype an addictive activity for the young and old.
What should I print?
Always imagine the final result, the negative space, the blue around the images. It will help you decide how to compose. Flat objects are best as they lend to crisper images. If you're using plants, consider pressing them dry first, unless you have a glass sheet you can put on top of the whole thing. You can print anything, really, not just plants: lace materials, carved glass, cutout papers, feathers, endless possibilities. Once you've started, you'll soon see that delicate and intricate designs give the best silhouettes.
Happy creating.
DRY TECHNIQUE
1. Mixing Solutions




3. Now you are ready to make a print
WET TECHNIQUE
1. wet technique




3.

Rinsing wet cyanotype continued
4. Wet cyanotype THE END PRODUCT: